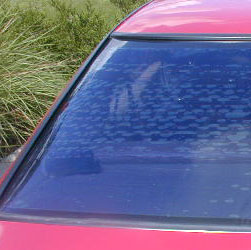 In the same way your vehicle will inevitably break down given enough time, so too will your tint film.  The mileage you can expect from your tint depends on a number of factors, including the type and quality of the film you use, the amount of sunlight it receives, and the skill possessed by the person who installed it.
Under intense and constant sunlight in southern areas, bad quality dyed window film can begin to show color fading within mere months.  Your standard hybrid type film will see you out for about 5 years, and the most high-end  metallized sputtered or deposition window film lasts for double that to 10 years, and sometimes longer.
In the image on the right you'll see rear window film that has no doubt seen better days.  This is what happens when you combine cheap window film and too much scorching Texas sun.  Bubbles coming up beneath the film makes it appear uneven and blotchy, and the film itself has color shifted to a purplish hue.  This is an easy giveaway that quality dye was skipped for a more 'affordable' alternative.
If you don't want your tint to look like this in a few short years, be sure to do your own due research and install quality tint provided by a reputable dealer.  Only purchase name brand films with lifetime performance warranties.  If you really short on cash and need to cut corners, at least purchase a film with a 5 year warranty from a big brand such as SolarGard, ASWF, or SunTek.
If you didn't install your window tint yourself, then your dealer should have you covered for either a 5-year or lifetime warranty, protecting both the coloring and overall performance of the window tint.  This is one of the perks of having a professional tint shop install your film, as you can always take your vehicle back to the dealer and let them take care of the replacement tint.
Even going the DIY option, reputable car tint kits that use quality window film also have a $9.99 replacement piece program that sends you a replacement film for any part of the vehicle having trouble.  When installing DIY kits, you are already saving from $100 to $200 off the cost of a professional installation, needing to replace a piece due to the adhesive not bonding correctly, you will still be coming out way ahead.
Are you interested in finding the best quality tint for your car?  TintCenter is here to guide you through the window tinting process – start by sourcing a quality dealer and request a Car Tint Price Quote today.
More information about various home tint options, installation, and purchase advice.
Learn more about car window tinting, tint shops, and state tint laws.